CURRICULUM: Social Media Marketer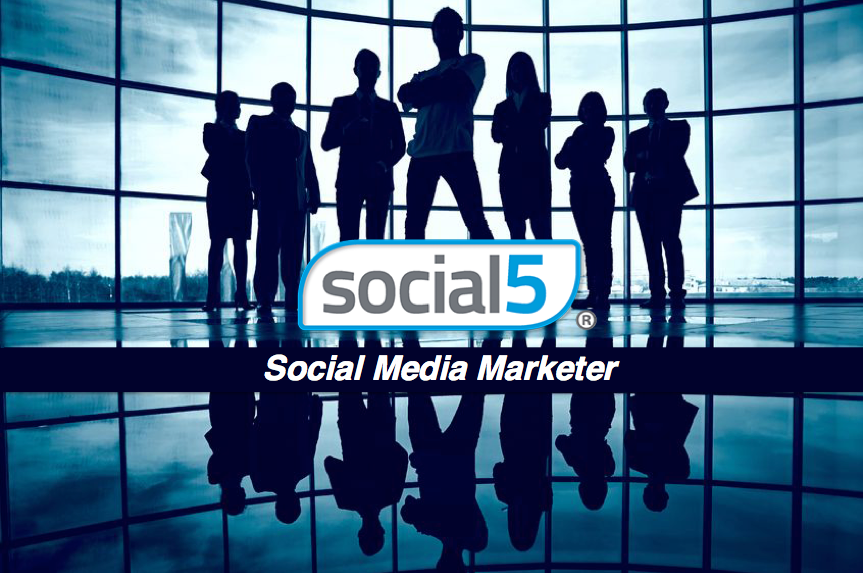 WELCOME!
TO FREELANCE CERTIFICATION
Thank you for your interest in becoming a SOCIAL MEDIA MARKETER through Social5, the nation's premier provider of social marketing services. This certification program will provide you with a more comprehensive look at how social marketing campaigns are created and managed. We will introduce you to the customer onboarding process and show you what information is gathered during our initial strategy session with a business owner. We will grant you access to Social5's internal systems and provide analytical tools that will allow you to monitor campaign performance. And we will introduce you to the world of advertising with hands-on training opportunities that will enable you to create and launch your own advertising campaigns. Graduates of this program will unlock unique opportunities for advancement within Social5, including a 30% increase in compensation on all contract categories and the opportunity to accept assignments within the Brand Development Division. Ready to begin?
Qualifications
Minimum tenure of three months as a Social Media Specialist.
Commitment to the Social5 culture of #innovate, #collaborate and #appreciate.
Monthly participation in Social5 writer training sessions, live or recorded.
Completion of the curriculum outlined below.
Completion of the final project.
Benefits
30% increase in compensation on all written categories.
Social5 email address.
Social5 mobile marketing suite with video conference room.
Login credentials to the Social5 mainframe with access to customer accounts and analytical tools.
Opportunity to increase compensation as a certified strategist. Customer communication increases to a $40/month stipend.
Requirements
Receive a written recommendation from your assigned editor.
Achieve two consecutive writer scorecards totaling 125 or above.
Participate in three training sessions, live or recorded, since becoming a Social Media Specialist.
Complete the following Introductory courses:

Understanding the Customer Onboarding Experience
Introduction to the Social5 Backend System

Complete the following Advertising courses:

Social Advertising 101: The CAB Philosophy.
Navigating Facebook Business Manager
Building Your First Facebook Advertisement

Complete the following Analytical courses:

Understanding Bulk Analytics
Customer Email Statistics
What You Need To Know About Google Analytics

Complete the following Advanced training courses.

Facebook Power Users
Twitter Tactics
Quick Tips: LinkedIn
Engaging With Your Audience

Score 80% or higher on the final exam.
Complete the following final project

Create an advertising campaign for a Social5 customer and monitor it's performance. (Request a campaign through Chief Product Officer Jeremiah Stettler at jeremiah@social5.com) You will receive a written letter of completion, which can be submitted to the Director of Content.

Submit certificate of completion, writer scorecards and written recommendation to Director of Content Johanna Huybers at johanna@social5.com for advancement.
Social Media Strategist Certification – Level 2 (optional)
Complete the Social Media Marketer curriculum.
Complete the following courses.

FreshDesk Basics
The Social5 Orientation Call
Customer Retention Techniques
Conducting Strategy Conversations

Watch three customer orientation sessions.
Complete the following projects.

Conduct a quarterly strategy assessment of an account.
Propose a social and advertising strategy for an account.

Score 80% or higher on the final exam.
Conduct a final interview with the Customer Relations Manager
Ongoing Requirements
Congratulations! You have become a SOCIAL MEDIA MARKETER. To receive the benefits of this title, you simply need to adhere to the requirements below. If you happen to fall short one month, your title will not be taken away. You will simply lose the financial benefits of the position for that month. We're excited to have you become a more fully integrated member of our team.
Participate in monthly training, live or recorded. Include the validation code on your invoice.
Maintain a monthly scorecard of 110 or above.
If certified, contact assigned customers monthly with primary outreach by phone and secondary outreach by email.
Reflect the Social5 culture: #innovate, #collaborate, #appreciate.
What's Next?
Now that you have become a SOCIAL MEDIA MARKETER, the clock has started ticking toward your next advancement. Once you have served for three months as a social media marketer, you will be eligible to become a senior social media marketer, an elite designation for Social5's top writers. You will have the opportunity to participate to get first pick on all new assignments, receive a personal video conference room, and receive access to Social5's customer communication portal known as Freshdesk. To receive this designation, be sure to attend your training sessions. Get your monthly scorecard up to 130 or more. And then reach out to your editor once the three months has elapsed for the opportunity to move up through the Social5 ranks. Good luck!
Course Features
Lectures

0

Quizzes

0

Duration

10 minutes

Skill level

All levels

Language

English

Students

99

Certificate

No

Assessments

Self